The history of the United States as covered in American schools and universities typically begins with either Christopher Columbus's 1492 voyage to the Americas or with the prehistory of the Native peoples, with the latter approach having become increasingly common in recent decades.
With large-scale military and financial support from France and military leadership by General George Washington, the Patriots won the Revolutionary War and peace came in 1783. During and after the war, the 13 states were united under a weak federal government established by the Articles of Confederation. When these proved unworkable, a new Constitution was inflatable tent adopted in 1789; it remains the basis of the United States federal government, and later included a Bill of Rights. With Washington as the nation's first president and Alexander Hamilton his chief financial advisor, a strong national government was created. In the First Party System, two national political parties grew up to support or oppose Hamiltonian policies. When Thomas Jefferson became president he purchased the Louisiana Territory from France, doubling the size of American territorial holdings.
U.S citizens value their loyalty to the Federal government but also to their individual states.                                                                                                                            To recognize this strong interest,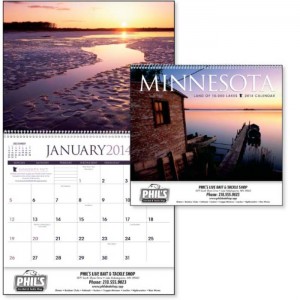 custom calendars have been created with full color photographs showing scenes from each state.  From the hustle and bustle of New York to the quiet rural farms of Kansas, every state has it's own unique custom calendars.  These calendars feature a large custom imprint area for the advertiser's message.    Full color logos, company information and other messages can be added.